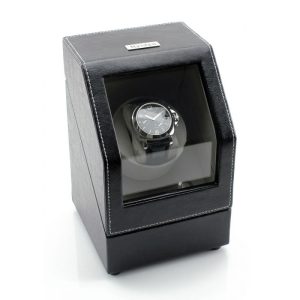 Optimizing the performance and longevity of your automatic watch is important to you. Perhaps you have come to the realization that you will not be wearing your timepiece every day; maybe you are simply seeking an elegant way to store your watch that will also help to reduce the number of times it must be sent to the manufacturer for repair. Whatever the reason, you have decided to purchase an automatic watch winder. Just as with your premium timepiece, winders come at many price points and provide the consumer with a variety of features. Use this guide to help you make the watch winder purchase that is best for you.
Consider Your Long-Term Goals
Do you have one automatic watch or several? Even if you only own a single one now, would you like to expand your collection in the coming years? If so, you would be wise to buy a winder that has multiple turntables that will accommodate the custom winding needs of several timepieces. Leaving a turntable or two empty for awhile is better than not having suitable winders for all the watches you may eventually buy.
You Get What You Pay For
If you have invested in one of the premium watch brands such as Rolex, Patek Philippe or Breitling, it stands to reason that you would treat it to one of the finer watch winders. However, if you have just purchased your first automatic watch and are not sure if this is a temporary infatuation or an enduring collector's passion, consider purchasing a lower-end watch winder that costs under $300. Just make sure that if the unit has an Asian-made motor, it is not one of the Chinese types, which are both noisy and unreliable. In general, particularly if you are able to spend a bit more money, motors made in either Germany or Switzerland have proven to be quieter, more reliable and longer-lasting.
Consider Turns Per Day
Depending on which automatic watch you have, specifically the type of watch and the kind of movement it features, it will need to be wound a set number of turns per day (TPD). If you are not sure of your watch's TPD, you can find it out from your user's guide, from the jeweler who sold you the watch, or by going online and searching for the brand and model. As you are selecting your watch winder, make sure it has the capability to be set according to your watch's TPD specifications.
Appearance
Since you will have your watch winder for many years, you should choose one that fits into the decor of the space where it will rest. The exteriors of watch winder boxes can be made from various substances including leather, metal and various kinds of wood. The very high-end winders are hand-crafted exquisitely out of the most beautiful and rare materials, making them showpieces in themselves.
Taking Your Watch Winder With You
The final question to ask yourself is if you will be leaving your winder at home or if you plan to take it with you when you travel. If the latter is true, you will want to consider buying a battery powered watch winder that has the capability to run on batteries as well as AC power. That way, even if you are in a foreign country, you can rest assured that your watch winder will continue to function without your needing to go through the inconvenience of purchasing a current adapter.
If you are like many automatic watch lovers, you spent a great deal of time deciding which timepiece to purchase. We recommend that you use the same care when deciding on the automatic watch winder that will best meet your needs. You wouldn't want to entrust your valuable timepiece to anything less.