Embed This Infographic
Copy and paste the code bellow to get this infographic onto your website or blog.
Watches To Please Every Watch Snob
Believe it or not, being a snob doesn't necessarily require you to be a millionaire. It does not demand that you live the lifestyle of the rich and famous or that you hobnob with celebrities. When it comes to being a watch snob, for instance, it just means that you have a keen eye for beauty, a love for craftsmanship and precision and perhaps even an affinity for a good bargain. Although you certainly can find premium timepieces worth tens of thousands of dollars and even more, you don't necessarily need to break the bank. As the below offerings show, there are some amazingly beautiful and innovative watches on the market that even a snob on a budget can admire. Make sure to protect and care for these timepieces with a Heiden watch winder to make sure they remain in the best working condition.
SEIKO MONSTER, SEIKO SUMO AND SEIKO SKX007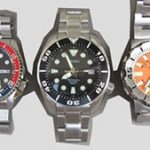 It's no secret that Seiko is one of the most highly-respected makers of dive watches at all price points. The Monster series packs a hefty punch at a welterweight price, sporting a 200 m water resistance rating, a case that's tough as nails, a screw-down crown and a rotating bezel, the Monster series didn't need much modification. However, Seiko came through again, making its updated Monsters even better by changing the design to allow the seconds hand to stop fully when you pull out the crown. As a result, you can set the time even more precisely and can hand-wind the watch at its crown. The Sumo is the Monster's larger and heavier big brother. In spite of its size, the watch wears very comfortably. Its Seiko lume enables you to have hours of bright illumination. Time adjustment is precise with this watch, since its seconds hand stops when you pull out the crown, as in the Monster. The third iconic Seiko diver is the SKX007. Often the first mechanical watch purchased by budding collectors, this model is impressive because of its good looks, sturdy build, nighttime luminosity and practical usefulness. At a modest street price, you can use this watch to its fullest without worrying too much about damaging it.
SWATCH SISTEM51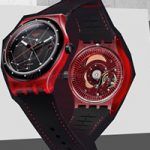 The Sistem51 by Swatch showcases all of the features that people have come to love about Swatch but with one big difference: its automatic movement. Unlike premium automatic watches whose movements are hand-made, the Sistem51's is assembled totally by machine. Human beings don't even jump in to adjust the accuracy of the escapement and the balance wheel. As its name implies, the Sistem51 is made of only 51 parts that are spread around five separate modules. All that joins the modules is a single central screw. The balance wheel and escapement are both made of a material that is both synthetic and anti-magnetic, virtually eliminating the chance that they will deregulate. The watch features a very long power reserve, a quick date function and a level of accuracy usually only seen in premium timepieces.
VICTORINOX AIRBOSS MECHANICAL BLACK EDITION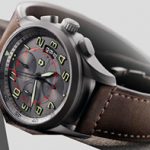 Whichever of the three watches in this series you decide to purchase, you will be pleased by the timepiece's readability, functionality and precision. Other details of its construction include a beveled two-surface inner bezel, clearly visible Arabic numerals contained inside metal frames and high-end diamond cutting in the dial that let the world know that the quest for beauty was not forgotten even if the price remains affordable. The case is satin-brushed stainless steel; the watch is water resistant up to 100 meters. View the Swiss-made automatic movement beneath a sturdy, anti-reflective sapphire crystal that is triple-coated and scratch-resistant.
DIETRICH OTC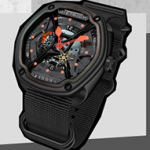 The brainchild of a young designer steeped in the Swiss watchmaking lore, Dietrich OTC watches marry Swiss precision with Chinese prices. Their design screams Swiss tradition yet they are made almost totally in China. With its matte PVD-coated steel multi-component case construction, slightly domed sapphire crystal, bright and easy-to-read four-part dial, hexagonal seconds and 24-hour disks at four and ten o'clock respectively, this relatively modestly priced watch has enough features and special touches to please any fine watch lover.
TEMPEST VIKING DIVER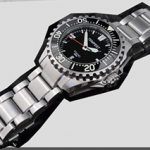 This watch's case is massive at 56mm wide, but its size enables it to contain many cool features. Most notably, it is water-resistant down to an amazing 2000 meters. The case features inset sides and a complex crown, while the rotating diver's bezel has a sapphire crystal insert. The all-ceramic dial is symmetrical and legible. Users have their choice of flat sapphire crystal vs. dome as well as three different colors of dials. In short, there is a lot of flexibility and much to love about this hefty indie diver's watch.
SEVENFRIDAY P-SERIES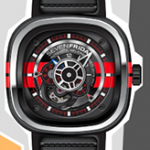 This Swiss-based company founded by a veteran in the watch industry keeps its timepieces affordable by using Japanese-made Miyota automatic mechanical movements. The cases on the P-Series are 47 mm in width and lugless, resembling an old-time television. Colors and finishes of the steel P-Series cases vary, as do color options. The dial contains standard hour and minute hands as well as a disk seconds indicator and synchronized hands indicating AM or PM. SevenFriday watches tend to have a hint of whimsy; they are fashion watches for men who might not want to admit that they want to be fashionable but aren't shy to let their inner nerd out once in awhile.
JUNGHANNS MAXBILL SERIES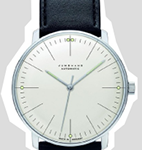 Max Bill was a world-renowned Swiss designer, architect and designer who believed in combining form with function in beautiful ways. In 1956, he began a collaboration with German watch company Junghanns and released a series of Bauhaus-inspired wristwatches that made watchmaking and design history. The MaxBill series brings some customer favorites of this genre back as well as some modern takes on the type. All in all, this series has produced watches that are supremely wearable, affordable and attractive in a functional way that is neither too sterile nor too frivolous. The modified ETA movements keep the price reasonable. Whichever MaxBill Series timepiece you choose, you are sure to get the perfect marriage of vintage design and modern efficiency.
AUTODROMO STRADALE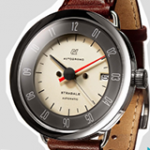 Inspired by a two-seater Italian Coupé, this watch is fast and fun, classy and sporty at the same time. Available in black, gray and cream, Stradales are priced comfortably under the thousand-dollar mark. The straight-sided cylindrical case rounds out underneath, making it very comfortable to wear. The bezel is concave, enabling the light to interact with the watch in interesting and unique ways. Edges are crisp and defined, while the curved wire lugs that protrude from the case give the timepiece a modern personality all its own. The floating dial adds color and creates the illusion of hanging numerals, while the red minute hand pays a subtle tribute to the needles on a speedometer or tachometer. The combination of colors and design details make this watch the perfect accessory for business or casual occasions. In conclusion, AutoDromo has crafted in the Stradale a combination of the automotive and the horological, the classic and the sporty, that is beautiful to behold.
ORIENT DRESS WATCH OPTIONS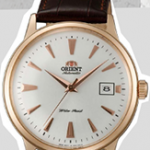 Even if you're mostly casual in your approach, there will inevitably come a time when you need a dress watch. Enter Orient, a company that combines attractiveness with Japanese mechanisms to give you the upscale and snazzy option you're looking for at a price you can afford. Orient is an independent subsidiary of the behemoth Seiko brand but has its own history and innovations. It is famous for its in-house-produced mechanical watches. From the baseline conventionality of the Bambino FER24005W0 to the premium features of the Orient FFD0F004W which even includes a power reserve indicator, you can't go wrong with this stalwart Japanese brand.
MONDAINE STOP2GO SWISS RAILWAY WATCH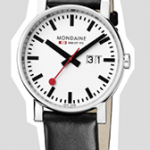 In 1986, the Mondaine watch company, owned by the same Bernheim family that had designed the iconic Swiss railways clock earlier in the century, turned the blueprint of that famous clock's design into a watch collection. The watch features a quartz movement, a stainless steel case, a sapphire crystal, is Swiss-made and individually numbered. Its stop2go feature causes the watch to run a bit fast for 58 seconds and to stop for the last two, just as a railroad clock does. How cool is that?